Copied from elsewhere:  Born and raised on the water, oystering is in chef Madden Surbaugh's blood. Every year at Christmas his grandfather made his famous oyster stew.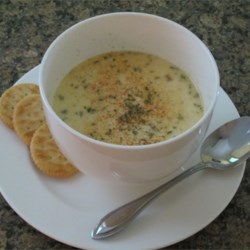 Ingredients:
recipe makes 4 servings
2 tablespoons butter
1 clove garlic, crushed
2 shallots, minced
1/2 cup dry sherry or dry white wine
24 freshly shucked oysters, oyster liquor reserved
1 1/2 cups whole milk
1 1/2 cups heavy cream
2 tablespoons chopped fresh flat-leaf parsley
sea salt to taste
1 pinch sweet paprika
1 cup oyster crackers
Directions:
Stir butter and garlic in stockpot over medium heat until butter begins to brown. Remove garlic and discard.
Stir shallots into browned butter. Cook and stir until translucent, 5 to 7 minutes.
Pour sherry over shallots in the stockpot and bring to a boil while scraping any browned bits off of the bottom of the pot. Simmer until liquid is reduced by half, 3 to 5 minutes.
Pour reserved oyster liquor, milk, and cream into the stockpot; bring mixture to a simmer. Reduce heat to medium-low and stir in oysters; cook until oyster edges begin to ruffle, about 3 minutes. Remove from heat.
Stir in parsley; season with sea salt to taste. Ladle into bowls and garnish with sweet paprika and oyster crackers.