Copied from elsewhere:   Simple recipe for fried oysters. You can use the same recipe for shrimp and scallops too.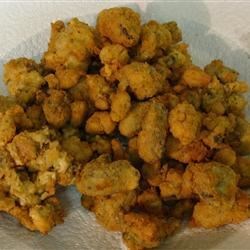 Original recipe makes 4 servings
2 quarts vegetable oil for deep frying
1/2 cup all-purpose flour
1 teaspoon salt
1/2 teaspoon ground black pepper
12 ounces shucked oysters, drained
2 eggs, lightly beaten
3/4 cup fine bread crumbs
Directions
Heat deep fryer to 375 degrees F (190 degrees C).
Combine flour, salt and black pepper. Dredge oysters in flour mixture, dip in egg and roll in bread crumbs.
Carefully slide oysters into hot oil. Cook five at a time until golden brown, about 2 minutes. Drain briefly on paper towels. Serve hot.